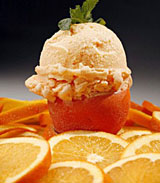 Ingredients :
2¼ thick cream
½ cup castor sugar
2 tsp orange rind (grated)
2¼ whipped cream
juice of12 oranges
Mix the thick cream, castor sugar, grated orange rind and cook in a double boiler till the sugar dissolves. Remove from flame and cool.
To the cooled mixture, add the orange juice and then pour in the whipped cream. Pour into an ice cream container and set for an hour.
After an hour, remove it and whip again. Cover with foil and keep to set again. Put the ice cream in the lower part of the refrigerator to soften before serving. Serve in bowls and top it with grated orange rind.
This ice cream is egg less.