Dessert - Rice Kheer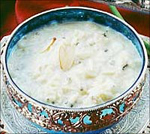 Ingredients:

250 gm Raw rice
3/4 Litre milk
300 gm Sugar
100 gm Sago
3 Cardamom pods
A few cashewnuts
A pinch saffron
A few raisins


Method :

Boil water in a vessel. Wash the raw rice properly.


Put the rice into the boiling water.

When rice becomes half cooked add washed sago to it.

When the rice is cooked properly, sago should turn transparent.

Add little water if required.

Mix sugar and cashewnut pieces with cooked rice.

Mix continuously until it boils.

Boil the milk in another vessel and remove its cream.

Add this milk to the rice and sago mixture.

Dissolve saffron in little milk.

Add it to the cooked mixture with cardamom and raisins. Mix well.

Rice kheer is ready to serve.