Dessert - Rasgulla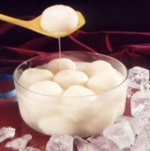 Ingredients:

1 tbsp Refined flour
3/4 Cup chenna
1/4 kg Sugar
1litre Water
5 Cardamoms
2-3 Drops vanilla essence


Method :

Knead together flour and chenna to make soft dough.

Prepare small balls from this dough and put cardamom seeds on them.

Boil the sugar in water in a big vessel.

Add vanilla essence and pour the balls into it.

Put a lid and cook on a low flame for 8-10 minutes.

Remove the lid and cook for some more time. Let it cool.

Rasgula are ready to serve.