Dessert - Pista Burfi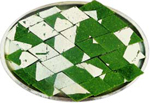 Ingredients:

400 gms Pistachios
250 gms Sugar
Water for sugar syrup as required
7-8 Leaves edible silver foil


Method :
Blanch the pistachios in boiling water.

Drain the water & remove peels.


Make a dry paste of the blanched and peeled Pistachios without using water.

Prepare sugar syrup.

Mix the pistachio paste with the syrup and keep on stirring until it becomes solid.

Now spread out the silver foil and cut it into square pieces.

Pista Barfi is ready.